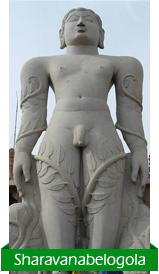 Sharavanabelogola (51kms from The Ashhoka)
This is a legendary pilgrimage centre and shrine of the Jains since early times. The 57 feet monolithic statue of Gomateshwara Bahubali is located on the Vindyagiri, standing atop of one of the hills. (Vindyagiri Hill). It is 17 mtrs high and is considered to be the world's largest monolithic stone statue and was erected by Chamundaraya, a General of King Gangaraya.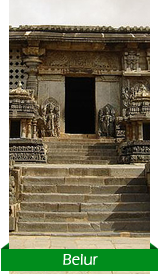 Belur (38 kms from The Ashhoka)
Belur is famous for its exquisite temples. The Serenity of Belur is attributed to the celebrated temple of Channakeshava, meaning handsome Vishnu, built by the Hoysala Vishnuvardhana in 1117 A.D. The main structure of the temple which is a star shaped, is a homogeneous architectural unit on a raised platform.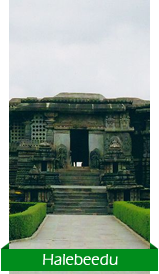 Halebeedu. (33 kms from The Ashhoka)
Halebeedu was the 12th century capital of Hoysalas. It has several strikingly beautiful Hoysala temples and Jain shrines. Outside the main temple are a Nandi (Bull), the mount of Shiva, and a hillock where the palaces once stood, connected to the temple by a passage.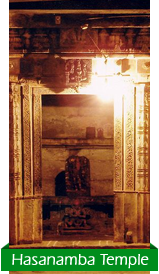 Hasanamba Temple (3 kms from The Ashhoka)
A temple shrine with an anti-hill representing Hasanamba, the presiding deity, the Temple of Hasanamba is usually opened once in a year for about a Year during the Ashwayuja month (October) when a Big 'Jatra '(fair) is held, marking and celebrating this Occasion. The Timings to see the Devi is from 7 am to 1:00 p.m. and again from 3:00 p.m. till 10:00 p.m.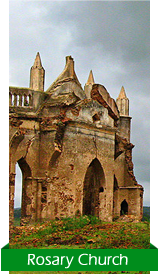 Rosary Church. (30 kms from The Ashhoka)
The Rosary Church at Shettihalli, near Hassan in Karnataka was built by French Missioners in 1860. The village of Shettihalli had to be relocated due to the construction of the Hemavathy Reservoir but the Rosary Church got submerged and that is what remains of the church. Strangely, the waters have depleted its structure but not the peace and serenity of the place.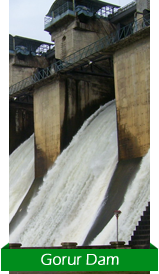 Gorur Dam. ( 22 kms from The Ashhoka )
Gorur is located at a distance of 22 kms from Hassan. A Dam is constructed across the river Hemavathi to form a reservoir called Hemavathi Reservoir. This place is pleasant picnic spot. The temple of Yoganarasimha and the Paravasudeva is also situated.